All about A load off your mind

A load off your mind is part of my PhD research. It is a cardboard laundromat that doubles as a third space in which to 'air the dirty laundry' of science culture. 
A load off your mind has been an installation at three conferences and a gallery. It has since evolved into a workshop model to help scientists who do (or want to do) public-facing science communication to connect with social science theory about public engagement with science that has been conducted as an in-person experience, and as a virtual version (thanks, COVID-19!).
It's part of my PhD research, funded by the Centre of Research Excellence Te Pūnaha Matatini, who are pioneering ways to make the culture of science and research more equitable. 
Here's a short intro: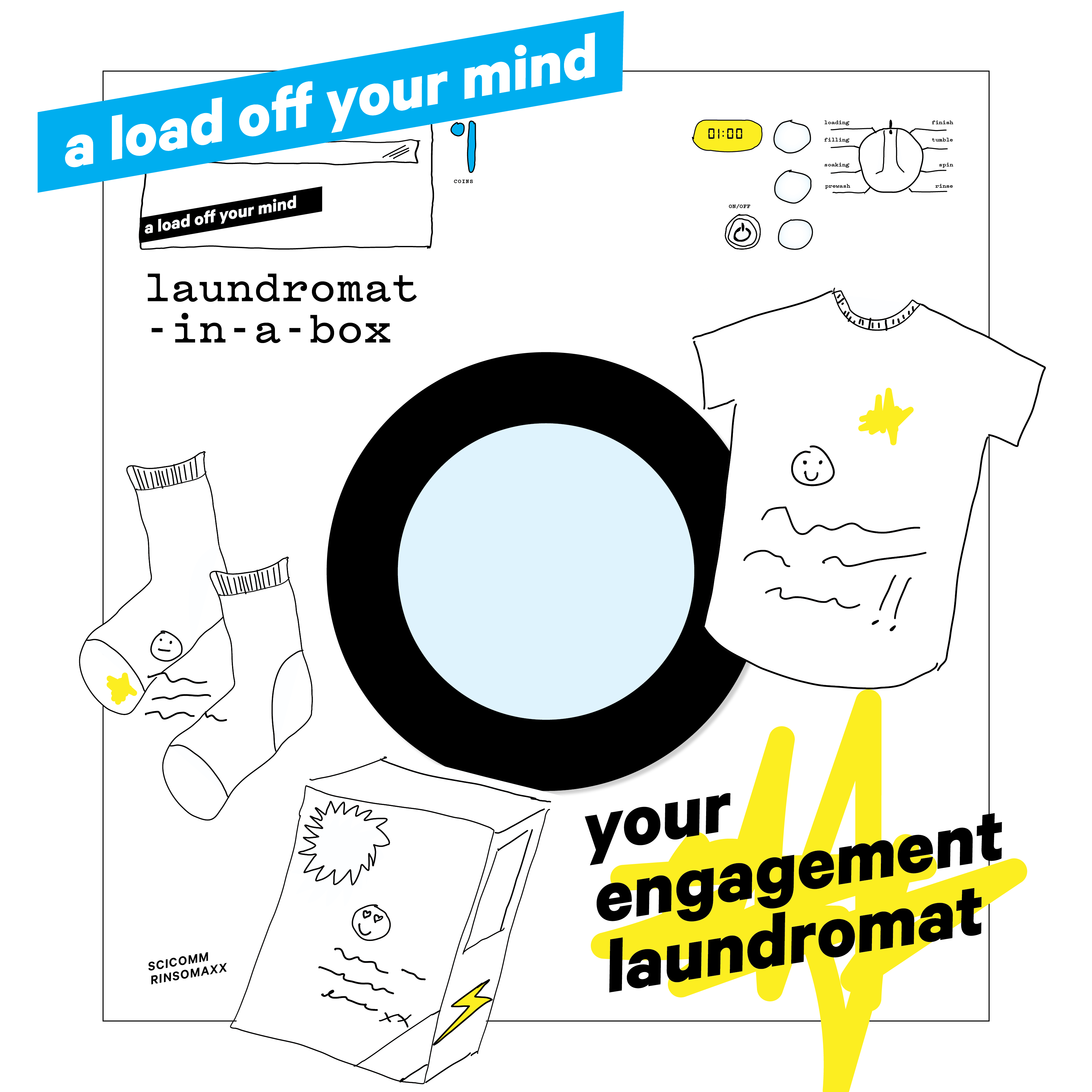 A coauthored paper reflecting on the Engagement Incubator version of A Load Off Your Mind has been published: 
Bailey, J., Salmon, R., & Horst, M. (2022). The 'Engagement Incubator': Using design to stimulate reflexivity about public engagement with science.
Journal of Science Communication
, 21(04), A01.
https://doi.org/10.22323/2.21040201
Backstory
I have written about the laundromat several times on this site. See also these blog posts that chart its evolution: 

Current work 
I am currently (as of April 2021) shaking out all the work I've done, as part of the process of writing my thesis. I am also writing a paper (co-authored by Rhian Salmon and Maja Horst) about the workshop-format residential hui that we conducted in February 2019 with Te Pūnaha Matatini scientists and researchers.
My work is suggesting that a designed experience like the laundromat has value as a way to help think about engagement in a reflexive way. But it has also suggested that there is value in coming together in a curated space where we are all non-experts and we are all open to dialogue and learning, be we scientists/researchers seeking to undertake the practice of engagement, and those of us thinking about engagement from a theoretical standpoint. 
My current preoccupation is the way the metaphors associated with the laundromat and doing the laundry (ironing out and pressing on, hanging out, soaking it up, agitating, rinsing, getting in a lather…) are useful to evoke the steps of a process, but also how there is a nice parallel with reflexive practice as well. Laundry is never finished (as Maja, who observed our laundromat pointed out). You know you will have to come back to it time and time again, as it should be with thinking about our public engagement practice. This also parallels the iterative cycles of a human-centred design process. 
In the context of the residential laundromat, this had an added level of pertinence in that we were there working through nine separate projects, each doing their own distinct 'loads', but in that public-private space that is a laundromat (a third place/space). It mediates the personal and collective aspects almost on automatic.
In the residential laundromat, the washing machines became the basis for a toolkit – on each side an exercise to work through. As Rhian Salmon pointed out, this wasn't a 'whizz-bang box' – the familiar form is a humble, practical workhorse of a thing, not a black-box of magic tricks. We expect to do something with it, to go through a cycle. We might even expect it to be a bit monotonous even, a domestic chore, but one that's doable, if you go through the steps. 
There are many other considerations about the way visual communication, humour, scenography and play are incorporated into this process, but that's currently soaking!
Resources
You can view a version of the laundromat zine edition workbook here (pdf). 
These are references from our scicomm 101 presentation (that you'll spin through as part of the a load off your mind experience), or that you might find interesting:
Cormick, C. (2020). Top tips for getting your science out there. Nature. https://doi.org/10.1038/d41586-020-00239-6
Davies, S. R., & Horst, M. (2016). Science communication: culture, identity and citizenship. London: Palgrave Macmillan. (View pdf)
Horst, M., Davies, S. R., & Irwin, A. (2017). Reframing Science Communication. In The Handbook of Science and Technology Studies (Fourth Edition, pp. 881–907). The MIT Press. (View pdf)
Horst, M. (2013). A Field of Expertise, the Organization, or Science Itself? Scientists' Perception of Representing Research in Public Communication. Science Communication, 1075547013487513. https://doi.org/10.1177/1075547013487513 (View pdf)
Nisbet, M. C., & Markowitz, E. (2015). Public Engagement Research and Major Approaches (p. 45) [Commissioned annotated bibliography]. Leshner Leadership Institute, American Association for the Advancement of Science. https://www.aaas.org/sites/default/files/content_files/Biblio_PublicEngagement_FINAL11.25.15.pdf
Salmon, R. A., Priestley, R. K., & Goven, J. (2017). The reflexive scientist: an approach to transforming public engagement. Journal of Environmental Studies and Sciences, 7(1), 53–68.( 
View pdf) 
Salmon, R. A., & Roop, H. A. (2019). Bridging the gap between science communication practice and theory: Reflecting on a decade of practitioner experience using polar outreach case studies to develop a new framework for public engagement design. Polar Record, 1–14. https://doi.org/10.1017/S0032247418000608 (View pdf)
Wilsdon, J., & Willis, R. (2004). See-through science: why public engagement needs to move upstream. London: Demos. (View pdf)