PhD part 15: Shaking out A load off my mind
In the last month or two, I have had a cardboard laundromat in my luggage. An experimental engagement laundromat to help people 'air their dirty laundry' no less.
As I sat down to document the journey seven or so weeks on, I realised that I was starting to make a new creation myth about how it all came about. But, luckily, I can check the transcripts, because it mostly happened in an email thread over a couple of hours on a Monday night in September…
23 September 2019
Hello lovely folks:

I am apparently now sole dictator of what happens at the NZAS conference, and have decided that I would *love* to have one of the workshop sessions in the afternoon be a creative session.

I was thinking about the hands on bit at the public engagement retreat ... but also thinking about words, as I often do. Can we do a kind of makerspace/problem solving? Am I delirious? What are your thoughts?

(I'm still headaches/faint etc so quite possibly this is a terrible idea)

K
On 23/09/2019, at 8:20 PM, "Rebecca Priestley" wrote:


I'm possibly delirious with head cold and I like the idea of doing something creative but that's all I got right now __  
On 23/09/19, 8:25 PM, "Kate Hannah"  wrote:


Oh no! Get better soon! Tomorrow… I will try and put together some better words. Was thinking a little bit like Stella Duffy's fun palaces idea... though nothing cringy

Sent from my iPhone 
On 23/09/18, 9.13 PM "Rhian Salmon" wrote:


I like the idea.... is the theme of the conference still around decolonisation? …

Creative is always good. Creative but not too uncomfortable is always the challenge.
On 23/09/18, 9.13 PM, 10.03 PM  "Bailey, Jo" wrote: 


…not cringy, but definitely something that gets people doing something outside their normal MO.

Hmm nothing is springing to mind, but the cardboard prototyping is good as you can ask people to make something to represent something else and it becomes a useful proxy/talking point. I'm sure there's something in that idea.

Might be interesting to have a place for people to share their anxieties/stories/hopes around a changing culture in science anonymously, but somewhere they can be collected and shared.

This is a fine line to walk without cultural appropriation, but Dark Mofo (the arts festival in Hobart) have this thing called 'the purging and burning of the ogoh-ogho'. Basically, people write their fears on paper and they are put into a giant sculptural parrot ('a totem-like sculpture derived from a Balinese Hindu community purification ritual and crafted by Balinese artists') that is made during the festival (it looks like a giant parrot piñata) and then it gets paraded through town, and torched in a giant nest-bonfire. It also put me in mind of the 'insecurity guards' that they have at CubaDupa and elsewhere, who theatrically collect insecurities from people, put them in a safe, and then burn it… hmm where am I going with this…

Now, I don't think we can have any pyrotechnics, but some mechanism for doing something to air and share things creatively and optimistically might be fun. A washing machine that very much doesn't make the science 'whites whiter'?!

I don't even have illness-delirium as an excuse and I just suggested burning a giant bird or being the rogue red socks in the 'white wash of science'. I think I need to go to bed now ☺
On 23/09/18, 9.13 PM, 10.07 PM "Rebecca Priestley" wrote: 


I love this idea but … but … what about the DATA?! You want to burn the data? Can't I secretly get all the messages out first and photograph them? And then we can write a paper on everyone's fears about changing the culture of science?

But I do love the idea of getting people to articulate what they're scared of/excited by/hopeful for.
On 23/09/18, 9.13 PM, 10.09 PM "Rhian Salmon" wrote:


I totally think this should have fire. Real fire.
On 23/09/2019, at 10:25 PM, "Bailey, Jo wrote:


Yeah it'd have to be 'burn after reading' ☺

That's how I got onto the 'airing dirty laundry in public' idea (which may in fact be a really awful metaphor, but we have a workshop about 'colouring in white spaces' at Massey and that made me think about 'unwhiting' laundry in a symbolic washing machine…)

I was imagining people putting their anxieties on grubby (white!) garment cutouts into a laundry basket that could then be performatively pegged out on a washing line to 'air' anxieties, and a collection of lovely multicoloured garments (DIY colouring in) for positive thoughts/ideas/suggestions. Might even manage to 'pair up odd socks' of problems/solutions… And then at the end put it all in a cardboard washing machine for the symbolic spin cycle (which may in fact involve fire)!

Hmm. Is this bonkers?
On 23/09/2019, at 10:25 PM "Kate Hannah" wrote: 


I love it. Because it is *also* a highly feminized and invisible task, the doing of laundry 

Sent from my iPhone 
On 23/09/2019, at 10:38 PM "Bailey, Jo" wrote: 


OK I just need to finesse how making a temporary laundromat can be framed as legit PhD activity, because I'm absolutely enthused about this idea now!
On 23/09/2019, at 10:46 PM "Bailey, Jo" wrote: 


It's called 'A Load off Your Mind' :-D 
On 24/09/2019, at 6:25 AM  "Kate Hannah" wrote:


 😂❤️👏🏽
ON 24/09/2019, at 8:28 AM "Rhian Salmon" wrote: 


This is your best PhD idea yet. Do it! 
---
So, the idea really did emerge almost fully formed in a few encouraging sentences from some awesome people on a meandering email conversation of an evening. I thank my lucky stars to have such sparky people crossing my orbit. 
With the computer in bed at 11pm, I jotted down a list of things:
In a spin about scientific culture?

All in a lather?

Dirty laundry to air?

Be an agitator…

Got tub-thumping tips to share?

Washed a pesky stain off your conscience? 

Got ideas about how to clean up our act?

Iron out the issues, be pressed into action 

Let's get Ready to Tumble! 

Hang out here, and take A Load Off Your Mind. 

Be a change machine

Get some new threads…
Puns. Puns and pretend laundromats. What could go wrong?!
For the next few weeks, juggling the end of semester and other deadlines I prototyped washing machines and made some prompt sheets, which Kate tested around the physics department. NZAS rolled around quicker than I hoped, but it's just an iteration, right? No need to be nervous…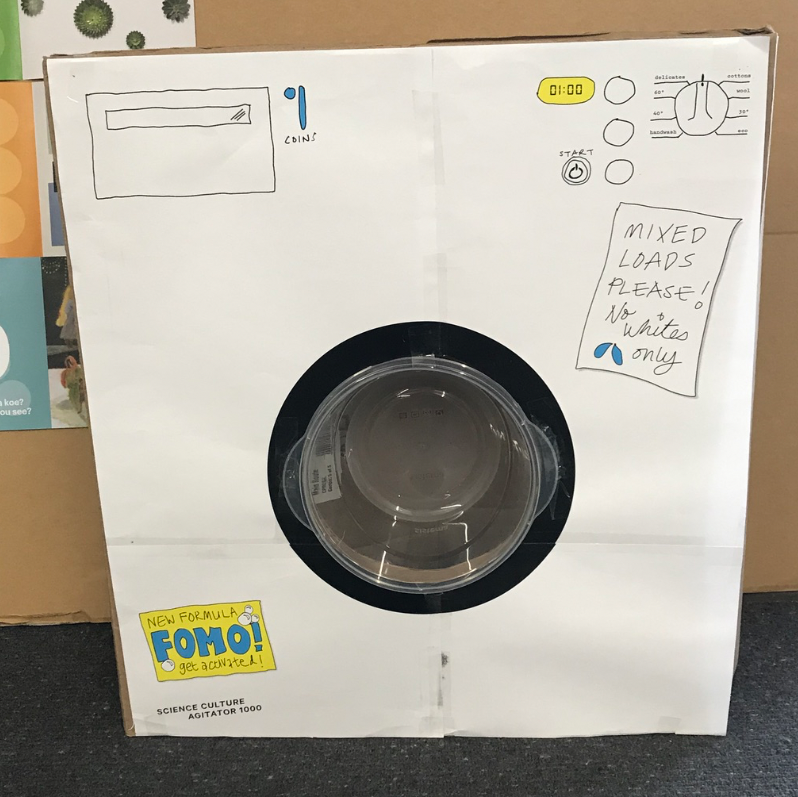 21 October 2019: the day before NZAS
Today, I was early, then late. 
I'd signed up for a creative writing workshop and stuck it in my diary on the 21st. Turns out it was 21st November not October. Realising my mistake when I reached the silent theatre I was momentarily embarrassed, then relieved. I had been anxious that the unfinished laundromat and I were due on a flight in 19 hours. Oh well, doable now with a bonus four hours! 
As I was on the north end of campus I took the opportunity to head toward The Warehouse for more 'washing machine doors' (aka round plastic food bowls) and superglue. Then I got a text from Rebecca:

'Hi Jo, is all ok – are you close? We're in 24 KP starting now!'
Shit. 
Check diary. 
A tentatively accepted 'Research student presentations' appointment. 
I'm not usually flakey. But I'm on a CSiS email group that means I get quite a lot of meeting requests that don't really concern me (marking deadlines, teaching hui…) and I'd assumed this was a day of presentations for the Master's cohort. 
Oops. Maybe she was expecting me to be a respondent? 
'Soz! Be there by half past!' I reply. 
I hustle up the hill in a Zoomy and sneak in the back. In the segue between presentations, Tim suggests a running order for the remainder, and I am in it. Penny drop! I momentarily think I might just leg it and feign some kind of emergency later (the lamest of fight or flight conundrums), but I decide to fess up and wing it. So, as Zoë talks I assemble a couple of slides and stick them on my blog, then when it's my turn I load up the blog and talk, reasonably calmly, about the laundromat. I am buoyed by the reception it gets, especially from Nayan and Courtney, who point to literature on laundromats and washing machines from their disciplines. I'm starting to feel like I've hit upon something… 
The rest of the afternoon is spent on construction. Superglue fails to stick drawing pins to milk bottle tops but Ulie in the workshop finds me some super bonkers strong double sided tape… I make a rudimentary opening door for a washing machine with zip ties… Durgesh and Luiz in the Toystore print off my posters… Slowly the list gets shorter and feeling pretty smug that I have twelve almost full size washing machines in a bike box I tape it up and bus home to pack. 
Rebecca messages to say she's not going to make it to NZAS, and as she has my laundry baskets in her hand luggage an early morning detour is required to pick them up, and my mind is fixated on getting lost. I have stress dreams.
Blurry eyed, I find myself in the Massey carpark with the box at 5.45am. I had called the taxi company to make it absolutely clear that I needed a vehicle to carry a bike box yet they send a Prius. Argh! The driver is apologetic – it's clearly not his fault – but the dispatcher is dismissive. She agrees to send a shuttle for which I'll have to pay $60. I have an anxious wait with friendly driver standing in the dawn light. Bizarre weather – I can hear and see hail falling on the roof of the next building but it's not falling on me – gives the whole thing a surreal quality. The shuttle arrives after an age, and the driver sloooooowwwwwlllllyyyy heads to the airport. I bail out and run to the check in on the minute bag drop closes, and though there are concerned frowns about timing from the desk, I manage to dispatch the box. And what's more, it turns up at the other end in one piece! I spend the half hour journey in the shuttle finishing off the slides I've been making on the plane. 
Set up goes reasonably smoothly. Kate's come with the requested ironing board and drying rack. A bunch of willing volunteers assembles spontaneously and Georgia, Rhian and Max assemble washing machines. Rhian does some fancy knot tying of the washing line, and in no time we have a space that looks like a playful laundromat! The reception is wholly positive – people are mostly fascinated by seeing something as random as this in the context of a science conference, even if they are initially charmed by the silliness rather than being drawn to engage. 
I manage a five minute talk, where I briefly explain how the idea came from 'airing dirty laundry', and the litany of puns that followed. I touch on how the humorous simplicity of these metaphors belies the serious possibility of a laundromat as a transformative 'third place' or 'third space'. It's not home, it's definitely not a lab or workplace, but there's a familiarity about being in a laundromat (gleaned as much from popular culture as from lived experience), and how people innately understand the shared purpose of being there to perform quite an intimate but ordinary activity in public. Ray Oldenburg suggests 'third places' are important for civil society, democracy, civic engagement and the like, and I recount how in turn the laundromat format resonates with the idea (from Raymond Williams) of culture being something generated by ordinary life, not just inaccessible 'high' culture. It's good. People are warm and encouraging. 
And then… not much happens. At morning tea, a couple of tentative responses to 'science culture is…' prompts appear (and I know one (at least) is courtesy of Kate). People come, browse, chat, but don't easily put pen to paper.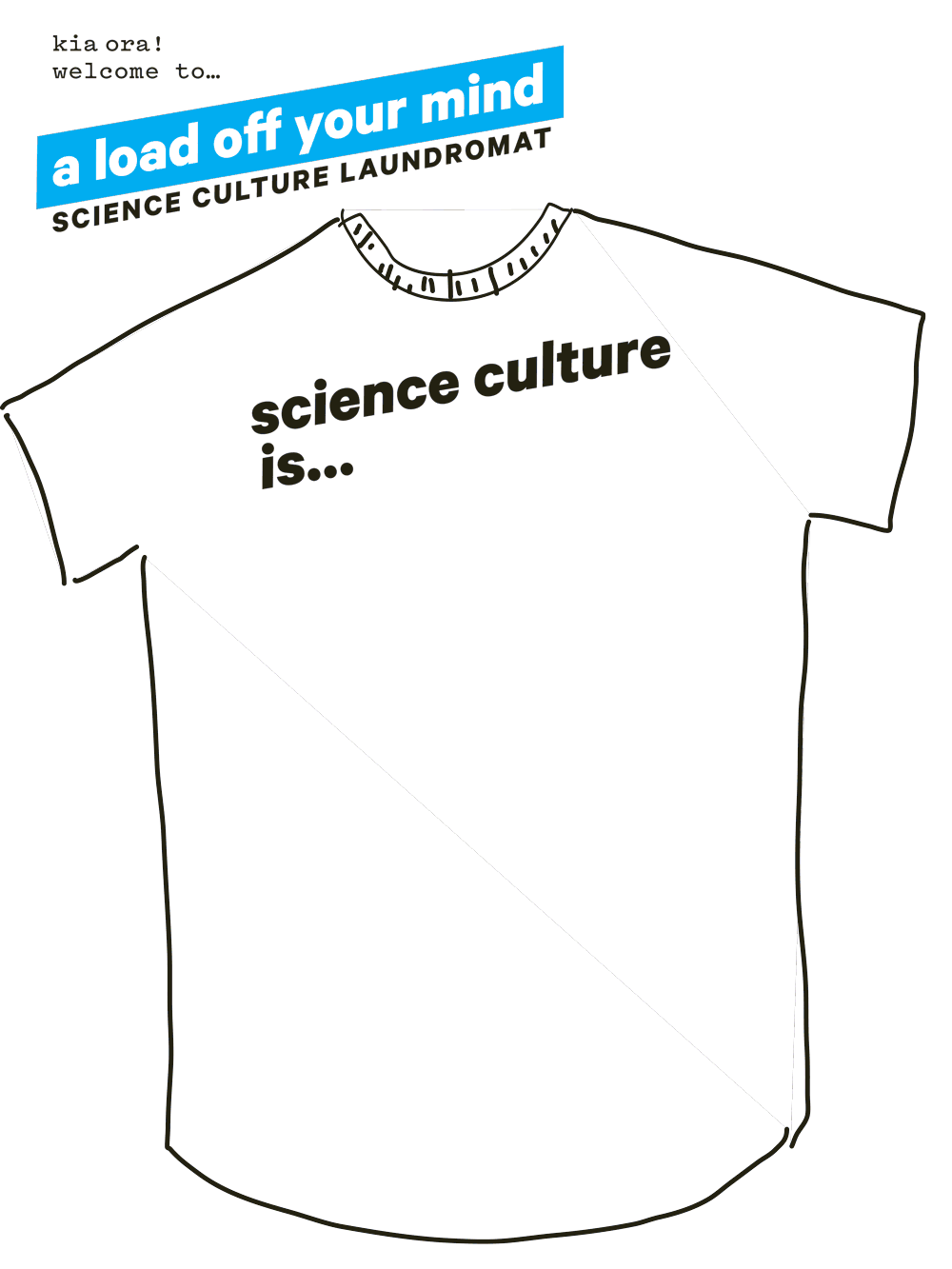 There's a talk from Nayan and a session on bullying from Siouxsie and Craig. They are powerful and thought provoking. I see a couple of things written down, but definitely not as much as is discussed around the tables. A few more things appear on the line, but I am feeling that this is a write-off idea… I tell myself it's ok if it fails; that's a legitimate experiment outcome, after all. 
After lunch, Tara and Sereana talk about their papers on equity goals in universities, and there's a fantastic frank panel discussion about changing the culture of science. I wish some of the thoughts swashing around were going down on paper… 
Then, there's a space specifically to play with the laundromat, chaired by Kate. People are a bit tired, or overwhelmed by now. The speakers have talked authentically, sometimes movingly about big things. With some gentle hustling, people chat and some people write and peg. I fish a few anonymous items out the open washing machine. I realise with surprise the line is nearly full and we start pinning onto the washing machines directly…


One of the reasons I'd suggested an installation rather than a workshop is that fundamentally (despite some hard-won coping mechanisms for public speaking and the dread 'networking'), I am an introvert. I'd rather be a good wing-person than the one on the stage. But everything feels a bit open, and it needs something to summarise; draw it all together. So I suck it up and suggest an exercise whereby people peg everything up, and then take a contribution from the line that resonates with them. It can be their own, or it can be someone else's. I check myself saying tentative things like 'maybe we could' rather than projecting more confidence and professional authority, but we start a conversation in a circle, with people self-selecting to share the contents of their prompt, and a comfortable back and forth around the circle ensues. A few times I nudge people to share. In hindsight that might have been unfair. Participation and engagement don't have to come in the form of speaking, I subsequently realise. If people took something – anything – away to reflect on, that's a legitimate engagement (harder to quantify, but I'll deal with that later! This is research-through-design, and reflection in and on action, not a focus group). 
We end with a brief manifesto which encapsulates quite a lot of the thoughts, and feels forthright (but not too confronting) and a gently optimistic:


Always think of how what you are doing looks from other viewpoints
Never talk down to anyone
Sort your privilege
Carefully navigate power structures
Press for a better future
It's handy to know stuff
Don't do things too gently
It's a nice way to wrap up. People thank each other and move away chatting, and slide into the evening drinks. I start to pack away and it only really then strikes me that I actually have data – interesting, real data! There are some pithy short answers, and some longer 'case study' downloads. There's damning critique and optimism. There's a sprinkle of ironic offhandedness, and some real heartfelt stuff too. I am going to have to actually work out how to analyse this 'properly'.
I think about a conversation with Maja Horst about her installation projects, 'characterised primarily as an effort to make an intervention and see what would happen' (Horst & Michael, 2011, p. 288) to remind me that this is a legitimate approach to take: an installation to 'make the communication dialogical and interactive' with the 'primary documentation' a 'registration of the physical traces of the interactions' (Horst & Michael, 2011, p. 290).
4 November 2019: The design culture laundromat
Before I've had a chance to download my thoughts, a colleague at Massey collars me to give the laundromat another spin, this time at a get together for design students at Enjoy Gallery. It is at the Present Tense: Wāhine Toi Aotearoa exhibition, a touring poster exhibition by women and non-binary designers generated through an open-call earlier this year. Contributors were given the provocation to explore any socio-political or cultural issue through the poster medium, and the catalyst was the Designers Institute of New Zealand's ongoing failure to recognise women's contributions to and achievements within the design landscape in Aotearoa New Zealand. The laundromat was pressed into action as a 'design culture laundromat' and became a format for a loose workshop and discussion.
Like at NZAS, people enjoyed the playfulness of the washing machines, the prompts and puns, and the tongue in cheek 'women's work' connotations which suited the context, but the prompts alone weren't enough to catalyse contributions and it required some momentum building. Attendees discussed in small groups and tentatively wrote things down. These were pinned up but in the confined space this didn't lend itself to further discussion, so we spread them out on the floor and repeated the 'talk about one that resonates' format. There were some great written contributions, but even though the exhibition had a distinct theme, in the time we had it perhaps needed even more curation. It's one thing to get people to make a poster about a 'social issue', but in that mix of Gen Y/Gen Z young people, when it came to expanding through discussion, only a few people volunteered lived experience examples of inclusivity, equity, diversity or gender-based issues. Perhaps as with NZAS that's ok and people don't have to speak – it's not 'audience participation' in a foisted on people sense that matters, it's a participating audience, in any way they want to engage, which can be just reading. I also suspect that between me and the three other academic women in the room perhaps we were too close to the teacher/student dynamic (our learned roles) to expect an entirely different kind of engagement. 
(Sidebar: here's a blog post about the event by Briar Lomas).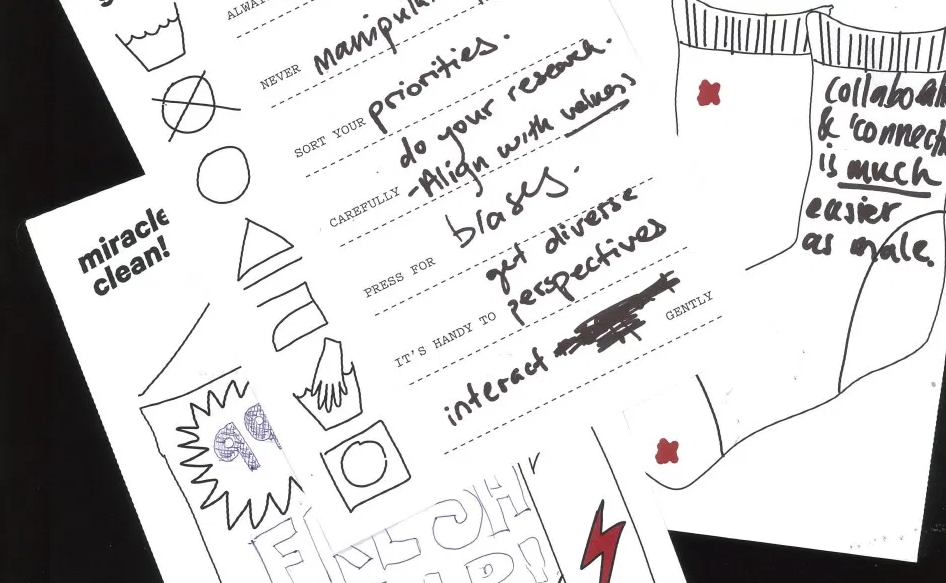 12–15 November 2019: Science Laundromat revisited
After a couple of days away (where in a nice cosmic coincidence I find some vintage clothes pegs in an antique shop called Bailey Pegs!), I landed straight back into laundromat land for the Australasian Association for the History, Philosophy and Social Studies of Science (AAHPSSS) conference. Unlike NZAS, AAHPSS was an opportunistic add-on suggested by the local organising committee, and the theme feels a little bit forced given that 'the culture of science' for science historians, philosophers et al is pretty broad, yet might be very specific if your field is, I dunno, geology in the 19th century or something! I made prompts that allowed responses to be about science, or with blanks for 'your discipline', and after discussion with Wendy Russell – who had on Rhian's suggestion agreed to use the laundromat in an 'unconference' session – I tweaked some to focus more on care, inclusivity and engagement. 
I assembled the laundromat under some stairs on Wednesday morning. It looked great, and for what was a public thoroughfare it felt relatively intimate. I also made the decision to display some of the NZAS responses in order to give people something to read from the get-go, and perhaps allow a conversation to form around those comments. A few prompt sheets drifted onto the line on Wednesday, and really interestingly, a couple from people who were not (I don't think) at the conference – people identifying as data scientists and physicists. 
On the first day I had more people come and tell me how great they thought it was than actually contributing themselves, but I took heart that at least they were talking about the issues as well as the format. I spent some time observing from afar. About half the people walking past stopped to look at least momentarily (including people who were clearly not at the conference). Of the people who did look, about half at least read a few things, and about half of those stopped and read for several minutes before tentatively adding their own – sometimes onto the line and sometimes into the open washing machines. Still, not a huge volume. 
Wendy's session was entitled 'How should theory and practice inform and enhance each other in Public Engagement and RRI (responsible research and innovation)?', and was a follow-on from talks about public engagement, risk and ethics in science communication. Wendy got us to pick prompts from the laundromat and line up in two lines, then have a conversation with the opposite person in a kind of 'speed dating' format. It was quick, and dynamic, and generated lots of chatter. One person opted out because they found the format anxiety-inducing (which is the opposite of what I wanted the cathartic laundromat to be!) and it was a good reminder for me that engagement shouldn't be one-size-fits-all. I did feel like the prompts were great for conversation aids, but that in the subsequent conversation only a fraction of things that were said fed back onto the line. It also reminded me that facilitation is not what I want to be doing. Kudos to the Wendys and Rhians who can do it; it makes me deeply awkward. So there is a tension here: the laundromat is engaging, it does make people loosen up and smile, but to generate a large amount of data, in this format, requires additional workshopping. I'm not sure if I am resisting this because it's not my kind of design, or resisting because perhaps more intimate tangential approaches feel like they might generate more reflexive engagement. That requires some reflection from me! 
By the end of the conference, there were about 100 responses on paper. But perhaps even better were the connections made at AAHPSSS (and over three days the next week at the retreat where I am writing this), especially with Joan Leach from the Australian National Centre for the Public Awareness of Science (CPAS at ANU) and her colleagues and students. Joan balances fierce intellect with being incredibly warm and funny, and we had some really interesting conversations about the laundromat, which she termed 'an experimental engagement device'. She even invited me to bring it to Australia! I will definitely be following up with her. 
28 November 2018
Somehow, another cycle spins round quicker than I expected, this time to SCANZ (Science Communicators Association of New Zealand) in Christchurch. SCANZ is such a friendly conference. It's my fourth one, and I've seen it get increasingly involved in equity, diversity and inclusivity issues, especially in the last two years (Kate Hannah's influence again, for sure). 
I set up in the foyer, and like NZAS it was a private space, so participants were all conference attendees. I'd made a few modifications: an integrated washing line made from broom handles that slot into three-machine towers, and a set of nifty 'weights' (e.g. water-filled milk bottles) for stability. The little iterative improvements gratify me more than they should! Again, volunteers spontaneously assemble (I definitely have a 'Team Laundromat'!) and it was up and looking great in 45 minutes. Once again I hung up some NZAS and AAHPSS responses as encouragement/inspiration/thinking points.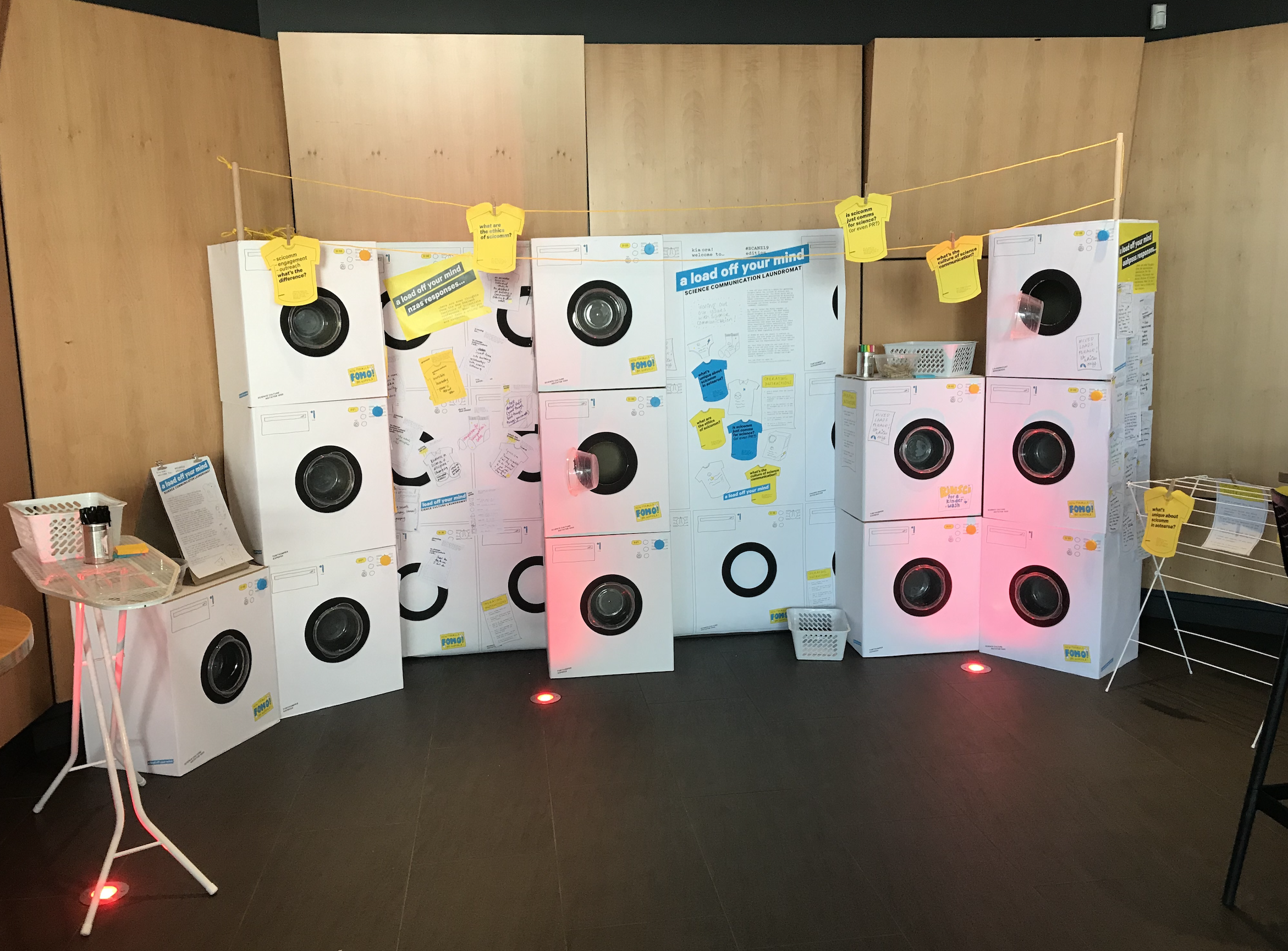 I gave a brief 'lightening talk' about A load off your mind on the first day, and had another flurry of comments about how much people like the format. But! Just as with the previous iterations, there was a slow start. I shoulder-tapped a couple of people towards the end of day one, and by day two there was a smattering of contributions when I whirled by for the opening session, which was a relief.
On day two, Ceridwyn used the space in an 'unconference' session where she wanted to talk about ethics in science communication. To be honest, though the conversation eventually found its feet with a discussion about values, the laundromat wasn't really doing much more than being the standard 'design thinking' post-it note repository (which I always feel is a bit 'once-over lightly' rather than very meaningful). 
10 December 2019
So as this is turning into the never-ending post (mostly because things keep happening before I get around to publishing, which I suppose is good), I'm going to try and peg out where I'm at. 
What have I learnt from the laundromat? I've learnt that the format is really useful for putting people in a different headspace. The silliness of it does seem to act as a leveler rather than coming across as flippant (which I was concerned about). The responses (yet to be analysed in any depth but I'm off next week to learn Nvivo to do some *proper* thematic analysis. Watch this space…) do seem to show interesting results, and as with design probes generally, are probably good prompts to steer other interventions. I will try and get some topline interview feedback from a select bunch of people who expressed an interest in the laundromat format, but I might need to take advice on how to make this constructive, not a vehicle for flattery. 
Siouxie Wiles asked me at NZAS if I'd come and 'do' the A load off your mind in her lab. I wonder if there's an opportunity there to try some longer form correspondence with people to explore how the prompts work if people do them at home, and as part of a back and forth dialogue resulting in a display / workshop? This might tie in with the engagement retreat that Te Pūnaha Matatini have planned in February.
As I fold this up for the year, I have to say I am so grateful to Kate, Rhian and Rebecca for catalysing this direction. I have got so much out of the process of cardboard construction, playing with puns, and just general making and doing. Also there's a rich seam of reading to do about the laundromat as a loci for engagement (the gendered nature of washing; the third space characteristics; what they represent in popular culture…) which Nayan and Courtney and Max Soar at CSiS especially gave me food for thought on. So, there'll be some idea soaking over the holidays, then in quick succession I'll be analysing my data, working out who to chat to to get feedback, doing that, and planning the engagement hui. The start of 2020 is going to spin by!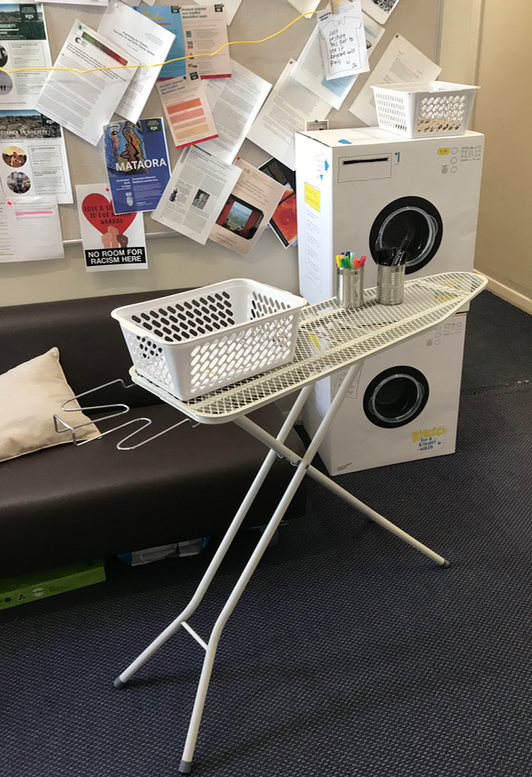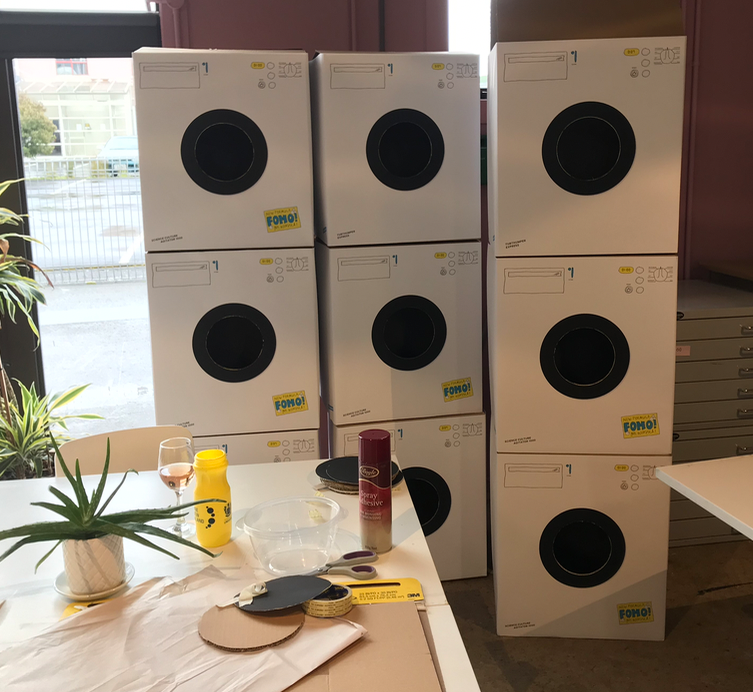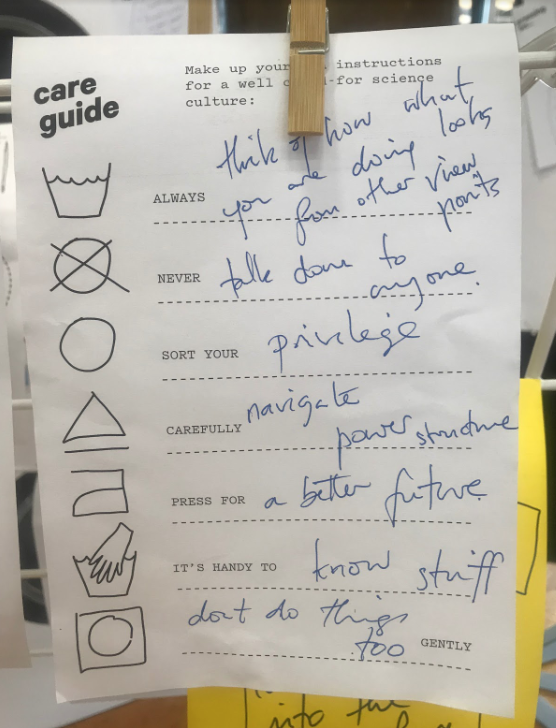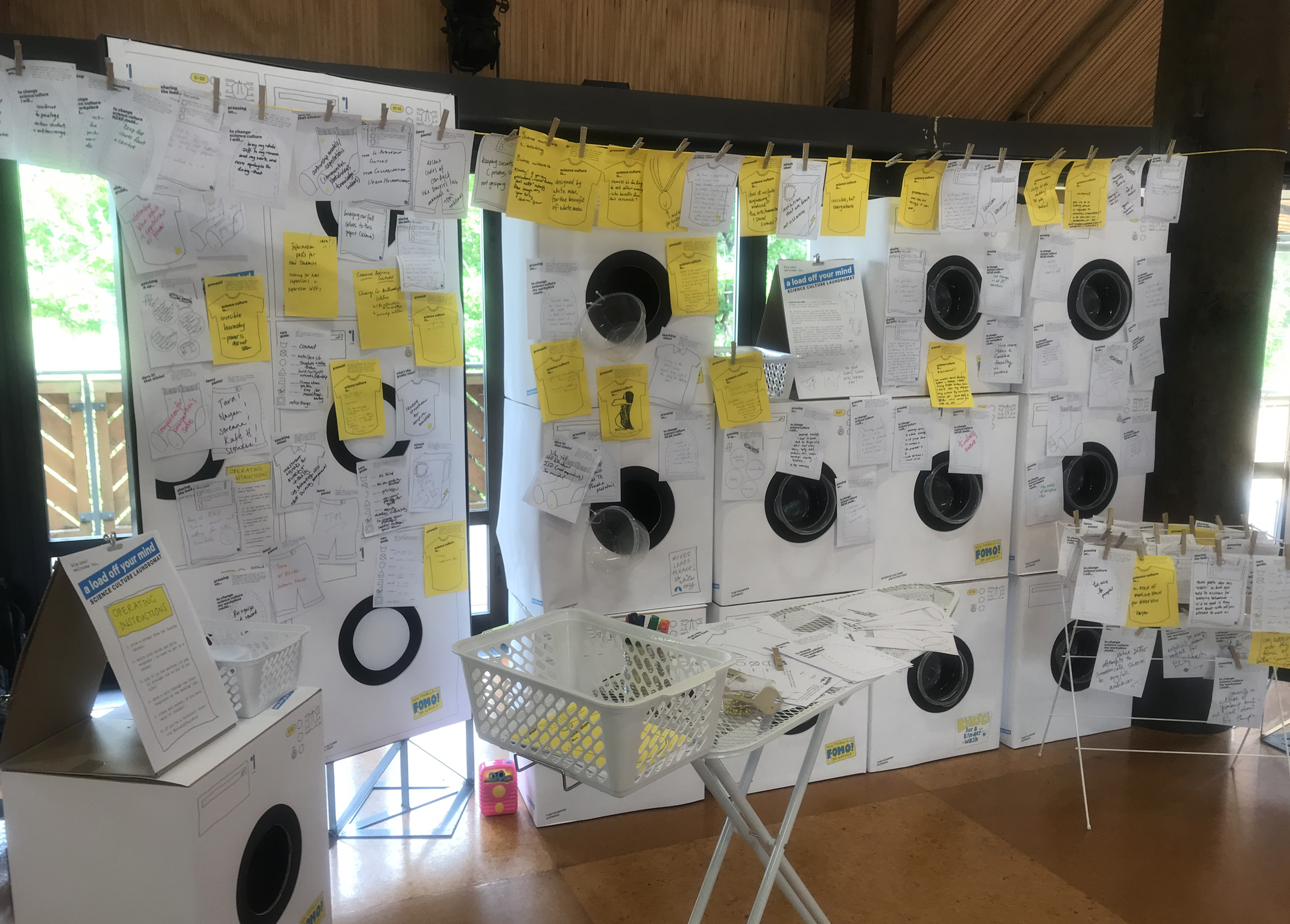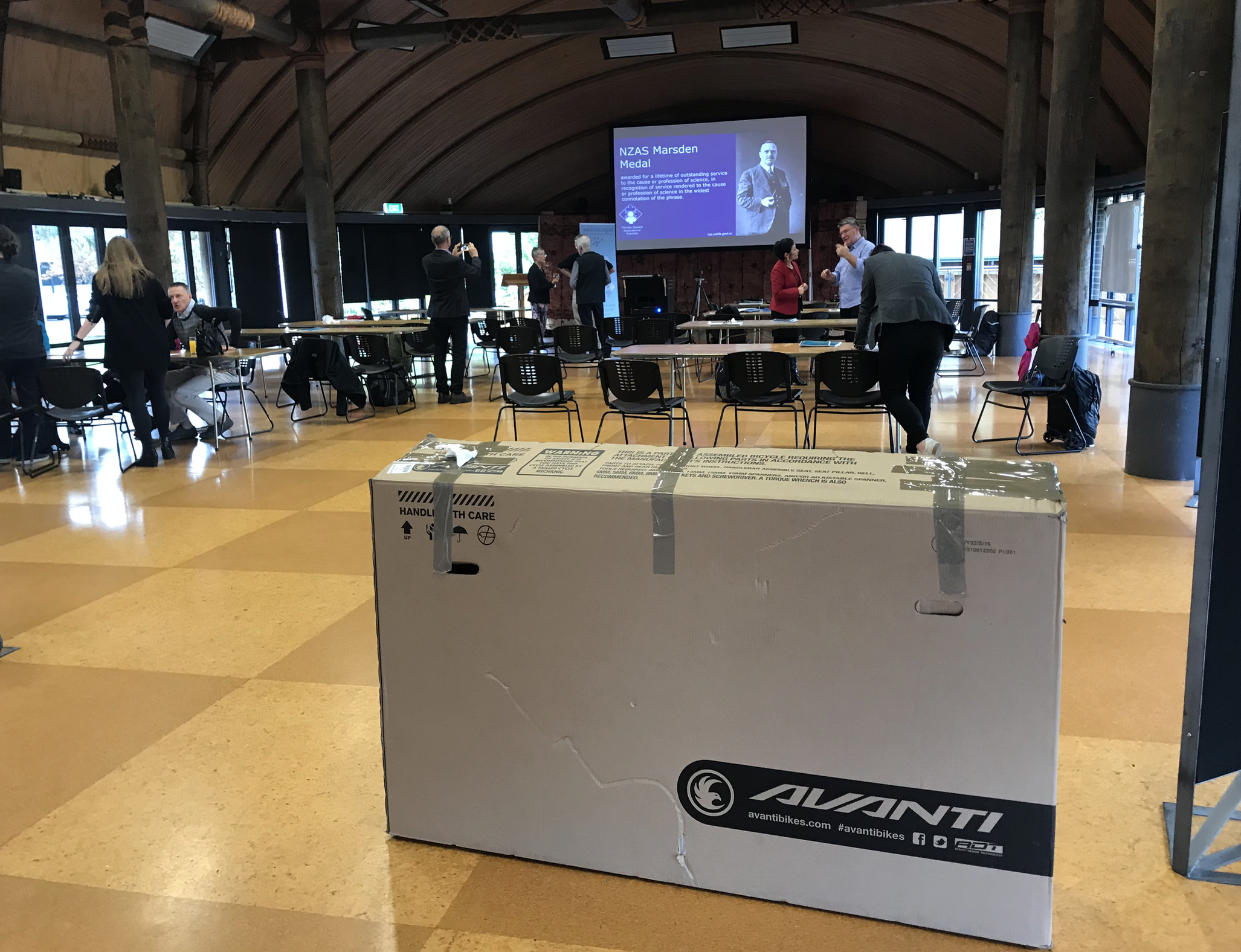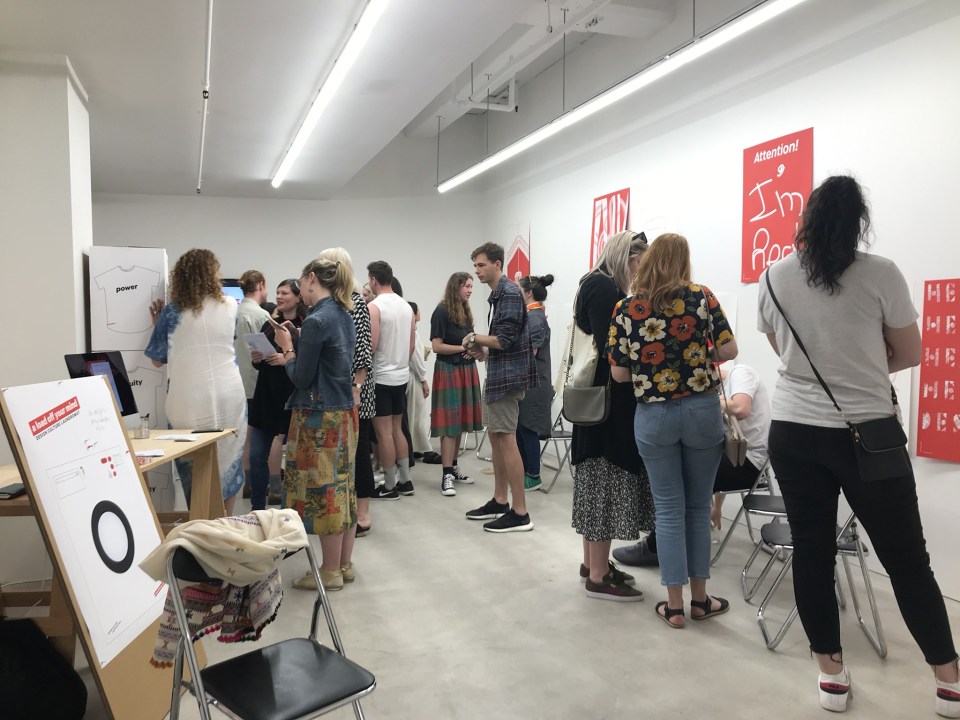 Given my recent obsession with laundry, this piece of packaging seemed to speak to me 🙂 #aloadoffmymind #laundromat #namesake https://t.co/gr2OTcILXq pic.twitter.com/hSY8w9XeC0

— jo bailey (@jo_bailey) November 10, 2019