The Engagement Incubator is the name of the project in which we have run the A load off your mind engagement laundromat as a workshop tool. 
It's a residential workshop run for Te Pūnaha Matatini scientists and researchers to help them think about public engagement. Te Pūnaha Matatini have had engagement as a key part of their ethos since their inception, but this has largely been reactive. They have been working with Rhian Salmon particularly to model ways to make engagement more holistic: upstream as well as downstream, and where appropriate piloting codesigned research projects with audiences or publics. 
Here's a presentation Rhian and I gave at PCST in 2021 (PCST 2020+1):
We were lucky enough to have Maja Horst join us as an 'embedded observer' when we ran our first engagement incubator in February 2020.* As mentioned in the presentation, this diagram shows how some of the previous work of myself, Rhian and Maja influenced the shape of the engagement incubator: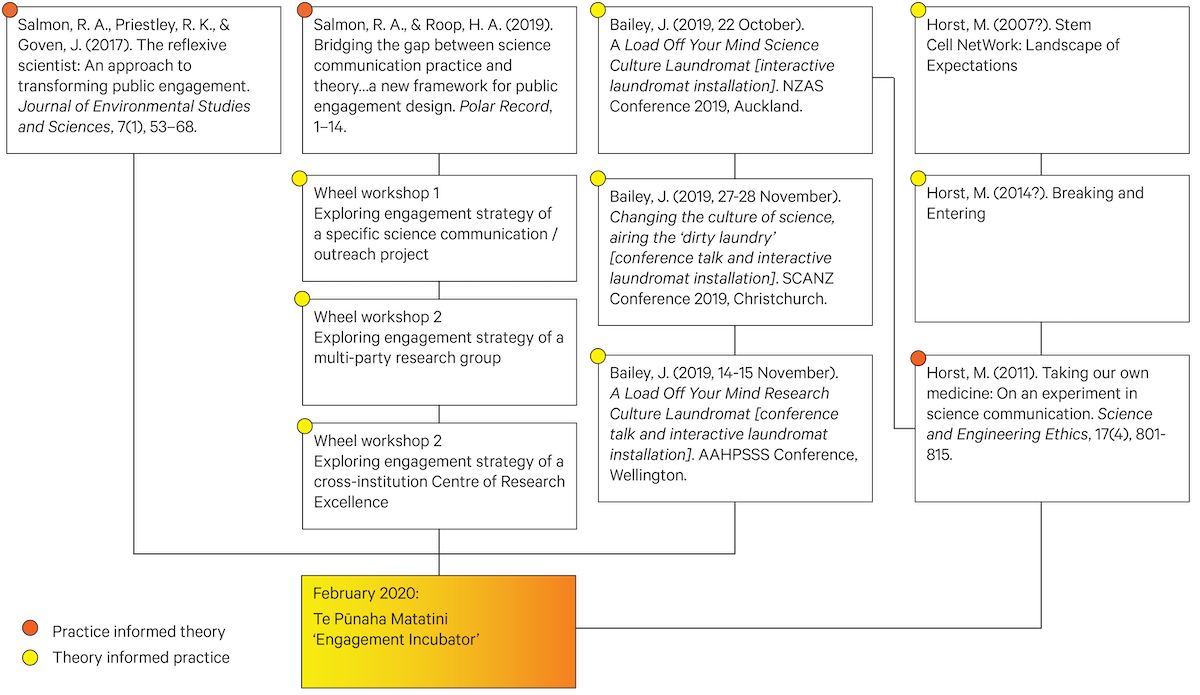 Here are the full references for the items in the diagram:
Salmon, R. A., Priestley, R. K., & Goven, J. (2017). The reflexive scientist: An approach to transforming public engagement. Journal of Environmental Studies and Sciences, 7(1), 53–68. https://doi.org/10.1007/s13412-015-0274-4 View pdf
Salmon, R. A., & Roop, H. A. (2019). Bridging the gap between science communication practice and theory: Reflecting on a decade of practitioner experience using polar outreach case studies to develop a new framework for public engagement design. Polar Record, 1–14. https://doi.org/10.1017/S0032247418000608 View pdf
The wheel workshops are not published yet, but will be covered in my PhD, coming 2022 🤞
You can find out more about the laundromats here
The Stem Cell Network: Landscape of Expectations project can be viewed here
The Breaking and Entering project can be viewed here
Horst, M. (2011). Taking Our Own Medicine: On an Experiment in Science Communication. Science and Engineering Ethics, 17(4), 801–815. https://doi.org/10.1007/s11948-011-9306-y View pdf
We are currently (May 2021) writing a paper about the engagement incubator. All being well, we'll submit it somewhere later this year. Watch this space!