On George Porter Towers: a building we will regret losing
It's nearly midnight. The unfinished work is piling up. I have to teach first thing in the morning, but this evening I noticed something. The demolition fencing has gone up around George Porter Towers, and I can't think about much else.
I've been so preoccupied with getting through these weird times I'd tried not to think about the sad demise of this building, but it looms large. 
Recently I moved into a rental flat. It's what real estate agents would call 'Architecturally Designed'™. It's ok (I mean, it's churlish to moan about having a warm, dry place to exist), but there are things I loathe about it. Like the way it has scant room for crockery but a full size dishwasher. Like the way it is 'vanilla aspirational' and has ridiculous body corporate rules about not drying your clothes on balconies. Like the lack of recycling or bike parking. The rhetoric of a mod-cons-upwardly-mobile-city-living lifestyle but oversights in terms of function to eke out more profit. But I digress. What it does have is a view of the George Porter Towers roofline. So yeah, it looms large for me literally, and emotionally.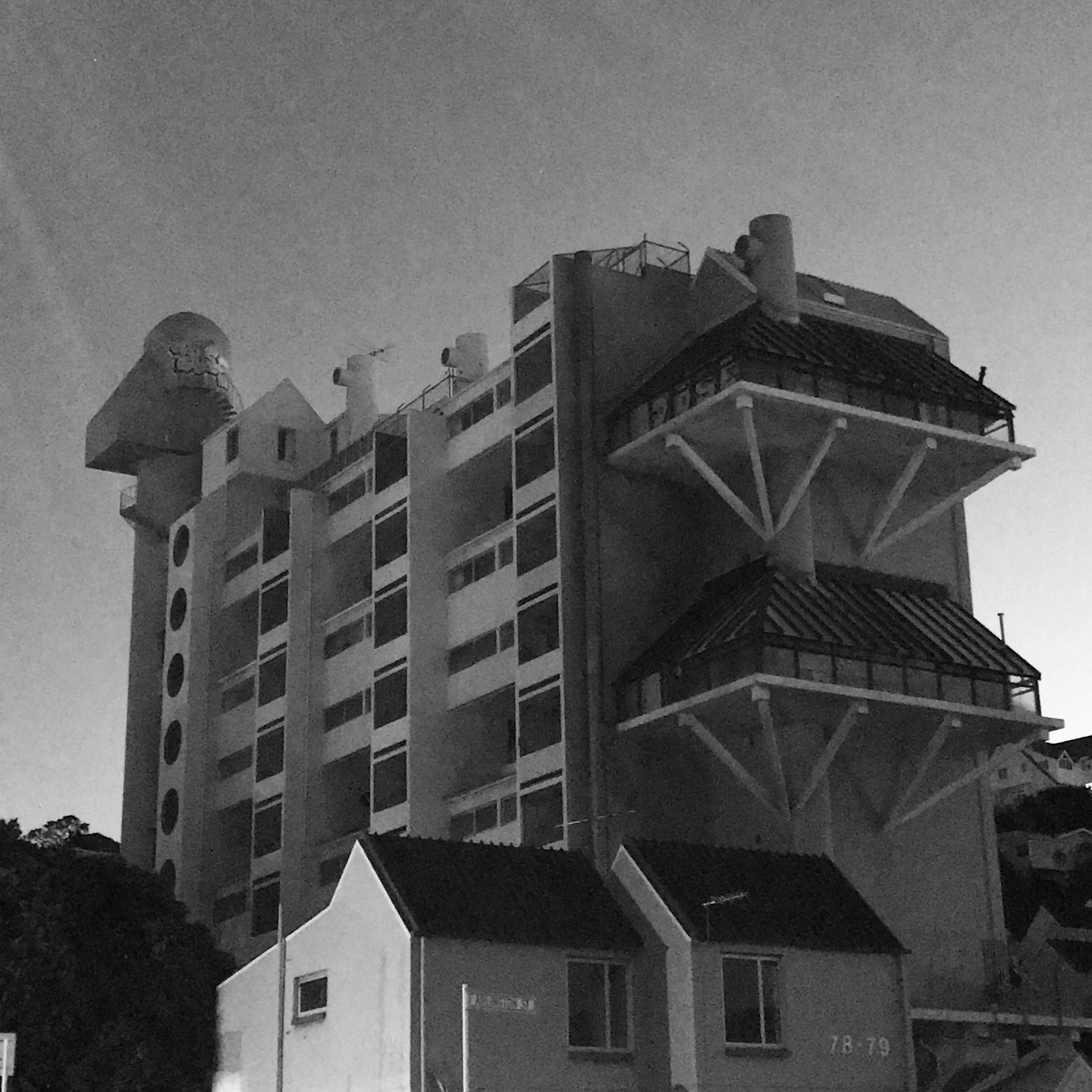 George Porter Towers. The first time I saw you – already run down by a council who saw it as a burden not a piece of heritage – I marvelled at the sheer audacious whimsy of you. A crazy, playful child's rendering of a village on top of a block of flats. But with a sense that there was an aspirational modernist vision of desirable social housing underpinning it. It was bonkers. It was like nothing else. I didn't know then that it was designed by prominent (and now much-missed) Wellington architect Ian Athfield, who at least is now being recognised as a treasure, even if his buildings aren't getting the same respect. 
I love this building. I have ranted about its pending demolition before. I've tried to stall its death by getting it listed with Heritage New Zealand Pouhere Taonga (I'm the 'private individual' in this article). They noted its worth (see their response on the right) but declined to wade into a political morass as it was already slated for wrecking. The Architectural Centre spoke up in support of its merit as an important piece of our architectural heritage. but to no avail. One councillor told me it was a shithole. Sure, it is now, but whose fault is that?
Ah George Porter Towers. Some would say the design failures there were greater than my current abode's petty grievances and nobody's denying there are challenges with a concrete tower block, but surely neglect by its owners is the biggest. It seems to me (and I'm no architectural historian*) that at least GPT had aspirations beyond a real estate tick list and bland beige tastefulness. It was for the people: utopian social housing (something the Architectural Centre suggest might actually play into a kind of stigma that prevented people wanting to preserve it). Ironically George Porter Towers is beige, but not at all in spirit. 
Last week, looking out the window and feeling melancholy, I started writing an email to the council I never got round to finishing. I wrote:
George Porter towers is top of my mind now because I have just moved into a bland apartment, from which I can see the roofline of Ian Athfield's whimsical colossus, and it makes me very sad that as a city we are going to lose an opportunity to repurpose a building of a kind that won't ever be built again (and through doing so, generate a huge amount of waste, and squander the embodied energy within it – a less environmentally wasteful undertaking it's hard to imagine)
And now maybe it is too late. Today the demolition barriers were there. They weren't on Sunday. Seems like COVID-19 lockdown level 2 will be knockdown for GPT. The council talk a good game about sustainability and about heritage, but when it comes to the crunch it goes in the too-hard basket. The renders of what will replace it are nice in that vanilla way (and I don't want to play down how important good social housing is), but meanwhile we lose a building with spirit, personality and potential. Tonnes of concrete into landfill. A density we won't achieve with what replaces it, when every other (high price, private) development within walking distance is showing us people are happy to live in apartments. Just not one that's been killed off…
Recently I listened to a podcast about concrete architecture. It touched on something very pertinent to George Porter Towers: active neglect, where buildings are intentionally left unrenovated and uncared for, which serves the vicious cycle of 'making the building more ugly, and then more hated, and then more ignored', so public apathy toward, or dislike of a building feeds itself. George Porter Towers has definitely been left to rot to allow it to become irretrievable so it seems unthinkable people could desire to be there, yet I believe(d?) it could achieve the optimistic aspirations that it set out with (either as mixed or social housing again, or redeveloped for private occupation to fund further social housing development).
Right now it falls in the 'too outdated to be modern, too young to be classic' category (though Ian Athfield's work is increasingly appreciated as a vital part of our city's architectural legacy), and I fear/it seems the council lacks the guts to make heritage a priority.
Clearly there are issues in our geologically active corner of the world with earthquake strengthening the building to make it futureproof. But, like Trellick Tower in London, I believe this is a building that (if we hold onto it) will become increasingly desirable to the point that we'll roll our eyes in disbelief that it came so close to it being lost. 
But now the barricades are up. Looks like it will come down. I mourn you in advance, George Porter Towers. I will miss you. I think we all will, in time. 
*I'm not an architectural historian, but Dr Julia Gatley is, and she has spoken out in defence of GPT. She gets a shout out in the Heritage NZ response on the right.
This is the letter I got from Heritage NZ in response to my heritage listing request:              
Heritage New Zealand supports preservation of heritage. Heritage New Zealand specifically supports the retention of heritage values through earthquake strengthening, repair and maintenance, and sympathetic design of an appropriate level of change, and this includes Modern architectural works.
The George Porter Tower building and Arlington 1 and 2 housing complex at Mount Cook, Wellington, was the earliest large commission designed by Ian Athfield's young practice. It is not currently entered on the New Zealand Heritage List /Rārangi Kōrero, however we have received a nomination for entering the George Porter Tower on the List for recognition of its architectural, social and historical heritage values. 
A preliminary evaluation of the nomination suggests it is a good candidate for entry on the New Zealand Heritage List.
History and Significance
The work of Sir Ian Athfield and his office forms the basis of understanding late Modern and Post Modern architecture in New Zealand, with a range of work from the radical 1960s and 1970s houses onwards. The 1970s period includes a number of well-known New Zealand architectural works, including the Arlington housing development. Sir Ian Athfield is New Zealand's internationally recognised architect, and his works are increasingly recognised as having heritage value at a national level.
The Arlington development and George Porter Towers in Te Aro started in 1970 and were completed in 1978, with Wellington City Council encouraging Athfield Architects to collaborate with King and Dawson, to allow a young firm to put forward their design flair. Arlington One and Two were made up of two clusters of low rise and medium density units all in Athfield's most innovative design. It included the high rise apartment 'George Porter Tower'.
In New Zealand history the Arlington Housing complex provided unique council housing- and was at the forefront of what we now consider modern multi-scale housing developments. There is also a strong relationship to Athfield's internationally award-winning Manila Housing development for the Philippines in 1975-6. Arlington is considered a ground-breaking project, for "applying the low-rise, medium density approach to public housing" [Julia Gatley, Long Live the Modern p.203] and is a marker in the development of Athfield's lifelong drive to change New Zealand's residential and social landscapes.
Notable architectural historian Julia Gatley of Auckland University considers the George Porter Tower "is distinguished by a comparatively sculptural form, domed circular lift tower, cluster of rooftop 'houses' and projecting clothes-drying rooms", as well as performing the function of screening the low-rise portion of the development from the street, and increasing the overall site density [Julia Gatley, Athfield Architects, pp.68-69].
Arlington One and Two and the George Porter Tower was a milestone in New Zealand architectural history. It is should be considered a significant work of the late Sir Ian Athfield, and is an early example, if not the first, of mixed housing model from low to high density in New Zealand.
Our conclusion
While the Arlington One and the George Porter Tower, Wellington is not currently entered on the New Zealand Heritage List /Rārangi Kōrero, a nomination has been received for entering it on the List for recognition of its architectural, social and historical heritage values. A preliminary evaluation of the nomination suggests it is a good candidate for entry on the New Zealand Heritage List. However we are unable to progress the nomination this year.